permanently STRAIGHTEN YOUR HAIR
japanese hair straightening
FAQ

What is Japanese Hair Straightening?
Japanese hair straightening is a revolutionary treatments developed in Japan, this process reconditions unmanageable, thick, kinky, frizzy, curly, wavy hair into sleek tresses that shimmer and shine even in wet humid weather while preserving the hair's health and nourishing it. It improves the hair's softness while making it completely manageable.
Does this method go by different names?
Yes. Japanese hair straightening goes by many names, including thermal reconditioning, Japanese iron straightening, Thermal straightening, Thermal Reconstruction, Thermal Reconditioning and Rebounding, straight perm, Japanese straight perm, and high-tech straight perm. ...
Does it matter if I've used a hair relaxer?
Yes, yes and yes. If your hair already has a relaxer in it, you will not be able to receive the Japanese Hair Straightening process at this time. The two services are incompatible and can have very negative results if combined, including breakage. Talk to a hair stylist about how long you will need to wait.

What is the difference between Japanese perm and Keratin hair straightening?
Keratin hair straightening is a semi-permanent treatments, control the frizz and smooth the hair up 4 months. It's never meant to straighten hair permanently, but its make it more easily to straighten.

If your hair is curly you probably won't lost your curl. When you have Keratin Hair straightening you can't use sodium chloride shampoo which is like every shampoo over the counter at stores except some children shampoos. For those people that want to get the straight look and free frizz hair without long term commitment we recommend the Keratin hair straightening.
Japanese hair straightening is a method of transforming even the curliest locks into pin-straight hair. This is a very intensive process that leaves the hair completely straight, and feeling silky and smooth with a glossy appearance. It works by breaking down the hydrogen bonds in the hair's cortex to remove all curl and waves. Since this is a permanent restructuring of your hair, it will last until new hair growth.
Does Japanese hair straightening work the same for everyone?
Results may vary, depending on the density of your curls and condition of the hair.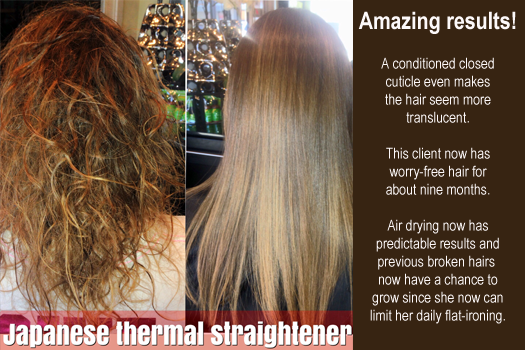 Are all hair types suitable for a Japanese straight perm?
Most women are candidates for thermal straightening, including those with virgin African-American (not relaxed), Black, Asian, Middle Eastern, Norwegian, Caucasian, and Latina-type hair. Hair that has been use high lifting color, highlighted, permed or relaxer may not be suitable for JHS.
What to expect in the salon?
Prior to the services a consultation need to be done to determine whether or not it is suitable for JHS. The process can take 4 to 5 hour to complete, depending on the length and condition of hair. Plan ahead and clear your schedule, so you can have a stress-free experience.
During the treatments process, special products are applied to relax and break down the bonds of the hair. Afterwards, hair is dried and straightened with a flat iron.
Post treatments Tony requests the following:

* Don't wash or wet hair for 48 hours
* Do not use hair clips or Bobbi pins.
* Don't use hair bands.
* Do not use the hair into pony-tail.
* Do not place the hair behind the ears.
* Do not use glasses to hold the hair back.
* No perspiration (exercise, steam rooms, hot tub, swimming, etc)
It is important take the after- care seriously, ignoring instructions could cause hair to reverse back to its curly state or cause frizzing or kinking.

Can I color or highlight my hair afterward?
Yes, in most cases you can add color after having your hair thermally straightened; however, the waiting time between the two processes may vary from client to client. The highlight services only can be done in people that use a customize formula for highlighted hair treated and if the hair condition allowed to performed safety.

How much will cost?
There is cost involved - both time and money. ... Your initial cost may vary from $350 to $400 based on length and density. But then, you have to consider the hours you spend every day doing battle with your hair. Normally, it takes "forever" to get your hair straight and sleek, and after all that toil, it's only a short-term fix - especially if it rains! . It's an investment, but with big returns!.
How long do the results last?
Japanese hair straightening is relatively permanent. The process uses heat to restructure the bonds in your hair, so results are long-lasting. Depending on your rate of hair growth, hair type, and the density of your natural curl, you may need to touch-up new growth about every 6 to 12 months. You also will need to be diligent about using the recommended after-care products specifically designed for women who have had this procedure.